Page 2 of 2 •
1, 2
So, I remember putting on the old tgboards a cute section. So before my next foray into my Late Great Aunt's journeys around the globe I am doing a top ten of the most cutest animals. Feel free to add your favourites. It's time this fun thread came to life! Jokes, pics, fun topics!
1. My favourite animal on the planet. No picture of this cutey is uncute, I know, I know.... thank you.... 
curtseys, strokes hair and shakes head nonchalantlically like
..... but I 'aint putting me on the list of cuteys.
Red Panda
.
2. The British Red Squirrel. Such a cuteykins!!!!
3. Chipmunk. An American cousin that scales the heights of cuteykinness!
4. Sea Otter. So cute! So Cuddly...… I WANT ONE!
5. British Wildcat. I love Cat, but the rule is that these cuteys must be natural cuteys!
6. Long-tailed Titmouse. They fly in cute little gangs of five to thirty birds from bush to tree to bush, finding stuff to eat. Cuuuuuuuuuuuuute!!!!
7. Skunk. Well, the perfume choice is all wrong, but they sure are cute balck and whiteyness type cuteys….
8. Dormouse. Such cute little sweeties!
9. Crested Titmouse. American cousin of the long-tailed. Real cuteys among the Pine!
10. Oh of course, the Opossum! That Michaela says 'aint cute!!!!!!! Well, I really don't know what the world is coming to sometimes!!!!!!!!!
--------------------------------------------------------------------------------------------------------------------------

Take chances, make mistakes. That's how you grow.
Mary Tyler Moore (1936-2017).
Haha Celia! I just discovered this and haven't taken the time yet to read through all this but the pics alone are worth the price of admission!
Nice pics. Reminds me of hearthstone.

Angelic




Posts

: 410


Join date

: 2018-06-19



Celia Eriksson wrote:10. Oh of course, the Opossum! That Michaela says 'aint cute!!!!!!! Well, I really don't know what the world is coming to sometimes!!!!!!!!!
Just wait until you find one in your kitchen going through the cat food

They don't do '
cute
' well as adults.
--------------------------------------------------------------------------------------------------------------------------
If you don't want a man unhappy politically, don't give him two sides to a question to worry him; give him one. Better yet, give him none. Let him forget there is such a thing as war. If the Government is inefficient, top-heavy, and tax-mad, better it is all those than that people worry over it. Peace, Montag.
Fahrenheit 451

MichaelaSJ

Moderator




Posts

: 375


Join date

: 2018-05-19


Location

: San Jose, CA



Possums, Opossums whatever. So Miki, those little cuties would not rummage through my bins! Coz, I'd make them all supper! They are super dooper cuteykins!
Well, I have a little time between shifts. I went into my loft and picked up the first of thousands of journals that I found. Yes, we are still on journal number one of 1,363 journals! I sorted through the hundreds of thousands of photos from that age too!
So it would appear that my Great Aunt Celia chugged into Venice after a short stay at Rome on The Good Ship Kangaroo. She stayed at Luigi's hotel and soon two Italian men were sitting at her breakfast table, the first morning of her stay.
"I am Luigi and this is Toni." Luigi said. "May we join you for breakfast, it is so busy here!"
Great Aunt Celia looked at the empty tables surrounding her table. Being polite, she accepted the offer.
"Thank you! Grazi, grazi!" Toni said and turned to his friend. "I'd like to lay on the beach today!"
"Oh." Great Aunt Celia said. "I never knew there were beaches in Venice!"
"There isn't, not here anyway. He means he would like to lay upon y...." Luigi chuckled. "His English is not good!"
"You Italians." She replied. "I can never understand you, I guess it's very hard for you!"
"Hehe!" Toni laughed. "I think I like your innuendo!"
"Well." Great Aunt Celia pondered. "Oh, you naughty man. Yes well, I see what you mean, it was a bit of innuendo I guess."
"No." Toni said. "I mean I like to be in your innuendo!"
"But, I don't understand."
"You have a great ass!" Toni licked his lips. He took a coin from his pocket and began spinning it in the air and catching it in his teeth. "You like this?"
"It's a very clever trick." Great Aunt Celia dropped her spoon in awe and accidentally nudged the table. "Oops!"
Toni swallowed the coin and began choking! Great Aunt Celia and Luigi began panicking and called out for help. A man came rushing across the dining room, made Toni stand up, grabbed his testicles and kept squeezing very hard for twenty seconds! He then pushed Toni back and kicked him very hard in the unmentionables! Five times!
The coin popped out! The man then calmly placed the coin in Great Aunt Celia's hand, kissed her cheeks sloppily and cheekily, then went back to his table and opened a newspaper, without a single word.
Toni looked at the coin in amazement and the trio walked over to the man.
"That was amazing!" Great Aunt Celia said, pushing down the top of the man's newspaper. "Are you a Doctor?"
"No." The man replied, I am a tax collector!"
The trio sat down and enjoyed their nosh! Afterwards Luigi and Toni insisted on showing Great Aunt Celia around Venice. Well, she quite liked Luigis, so she agreed.
As they walked around, Toni and Luigi bought her lots of gifts, they had wads of money!
"What business are you in." She asked after yet another gold bracelet was bought for her. "You are both most generous!"
"I'm a handyperson." Luigi declared. "I fix things, I fixa the taps, the watches, the clocks, the electrics. I fixa the televisions, the radios. I fixa the air-conditioning. I fixa anything!"
"Ooh, you are so clever! How about you Toni?"
"I fixa things too. I'm very rich!"
"What kinda things do you fixa, I mean fix?"
"I fixa the horses, the football matches, the boxing...."
"Oh, I see." Great Aunt Celia looked a little despondent.
"What is wrong?" Luigi asked her.
"I wanted to see Rome. But the boat kept sailing to Venice. I'm disappointed."
"We take you to Rome!" Luigi said. "We go this afternoon! I go back to the spaghetto and get our things!"
Soon a Fiat pulled up outside the hotel and they were on their way, it floated down the canals and made for the roads.
"What does F.I.A.T. stand for?" Great Aunt Celia asked, as the little car broke down for the 53rd time. "I've always wondered."
"It stands for fixa it again Toni!" Luigi laughed.
"It's amine!" Toni shouted.
"Yes, I know it's yours." Luigi said. Just fix it!"
"No it's a mine right there!"
"A mine in Venice?" Great Aunt Celia asked. "Noooooooo."
"Oh yes, my Great Uncle Bertoli hit one last week!"
"Did it kill him?"
"No, he just pasta way!"
After the mine blew up the Fiat, they sailed to Rome and Toni promised Great Aunt Celia that they would see the Pope on the balcony thingy.
They stayed in a little boarding house, where the large landlady known as Mooma Mia took a shine to Great Aunt Celia.
Now Great Aunt Celia had grown fond of Luigi and tapped upon his door. She went in and Luigi was there on his bed, topless. She ran down the stairs to Momma Mia who was in her kitchen making an egg dish.
"Oh, Momma Mia!" She squealed. "I just saw Luigi with his shirt off, he has a mega-hairy chest!"
"Real men do!" Momma Mia assured her. "It's nice to run your fingers through! Oh, and so you're going back. I see!"
"Oh Momma Mia here I go again!"
She ran up the stairs and went into Luigi's room. He'd removed his trousers! Great Aunt Celia ran back down the stairs.
"Momma Mia! He has very, very, hairy legs! I've never seen such hairy legs!!!!"
"Well, that's a good thing!" Momma Mia told my Great Aunt. "It's nice to have hairy legs bristling between yours!"
"I'm sure it is!"
"Off you go again! Momma Mia laughed. "Playing around!"
"It's the name of the game!"
Great Aunt Celia bundled back up the stairs and went back into Luigi's room. He was exactly the same. No change. Great Aunt Celia looked at Luigi's feet. One of his feet only had two and a half toes!
Great Aunt Celia scrambled down the stairs!
"Oh Momma Mia! Luigi has got a foot and a half!"
"Out of my way child!" Momma Mia said scrambling up the stairs.
"Oh."
Well after a while the trio were tucking into a special dish prepared by Momma Mia, in honour of a past pope. It was ex-Benedict.
It was early evening and they were off to see the Pope. Momma Mia told Great Aunt Celia she could borrow one of her Daughter's fine dresses, as Luigi declared he'd fulfil his promise they went to the Vatican. She did not like the dress, but wore it for Momma Mia.
As they approached the square thingy place, Great Aunt Celia was recognised by many of the Romans. Luigi and Toni were surprised.
"It's because I am a famous explorer, spy and expert in lots of stuff!" She explained humbly quietly. "I'm famous!!!!!"
"Noooooo you are not!"
"Oh yes I am!"
Just then a Swiss Guardsman grabbed Great Aunt Celia and whisked her away to the Pope's lodging. Luigi and Toni were left on their own in the square place thingy, apart from another 50,000 people.
The Pope greeted her.
"Hey Celia baby!" The Pope said.
"Hi Popey baby!" She replied.
"Where did ya get that awful bloody dress!" He asked.
"I was gonna ask ya the same question!"
"Oh this?" Popey looked at his cassock. "I'm going on the balcony that looks over thingy Square! You can join me!"
Well the crowd erupted as the duo went out on to the balcony that overlooks wotsit square. They all lunged forward and soon Toni had lost Luigi in the raucous. Now Toni being short sighted and vain and having left his new invention of contact lens at home, he asked a man who was on the balcony.
"Who is that on the bloody balcony that overlooks thingybob square?" Toni asked.
"I don't know who the guy in the white dress is." The man said. "But the hot babe in the awful  dress is Celia Eriksson!"
And so her adventures continued! More from Journal number one soon! We are not even an eighth the way through the first book yet!
--------------------------------------------------------------------------------------------------------------------------

Take chances, make mistakes. That's how you grow.
Mary Tyler Moore (1936-2017).
So anyway, Popey Babey asked Great Aunt Celia to go to Tennessee as he had baked a Cherry Cake for his Aunt Fransesca and wanted it delivered.
So landing in New York after a bumpy voyage upon the Good Ship
Kangaroo
, she made for the railway station. Waiting for the train she befriended a friendly, plump Marmalade Cat as the train puffed and choked into the station.
Oh dear!
She thought.
I don't know if this is my Tennessee train or not!
Well, luckily the friendly Marmalade Cat told her it was and she boarded the train. As the train chugged away, the ticket inspector came along and asked for her ticket.
"I saw you just make the train, young lady, you were very lucky to have caught it!"
"Yes, I was not sure it was the right train, but luckily the Catknewthechoochoo."
"Erm, yes ok. Norwegian are you?"
"Yes, however did you know!"
After 900 yards the train derailed. A crew of men with levers jumped off the train and put it back on.
At the first stop, a fine dressed Yankee man boarded the train and sat opposite my Aunt. Great Aunt Celia blushed and smiled and looked as cute as she possibly could, which was unprecedented in the cuteness arena. But the Yankee closed his eyes and kept putting up his hand and shaking his head. Great Aunt Celia got a little frit and the cuteness waned, just a tiny bit.
Finally the man opened his eyes and drew a deep breath, the train was approaching the next station. He smiled at her.
"Ma'am." He doffed his top hat. "Going far?"
"Tennessee and then on for a liccle holiday in Californy with two sureshot friends." She held a finger to her chin. "I noticed that you kept throwing your arm just now and shaking your head. I am sorry to ask, but you seem quite sane. Why did you do that?"
"Oh, I like to tell myself jokes as I ride the train. But, I have to remind myself when I have already heard them."
"Ah. That makes very good sense." Great Aunt Celia confirmed.
"Shame you are going down south." The Yankee man smiled. "Quite a shame."
"Why?"
"Coz I am having a great party tonight. There will be lots of wine and dancing, then lots of hugging and kissing and petting and other stuff. You would have a memorable time!"
"Oh." Great Aunt Celia sighed. "I suppose I could make a little detour. What does one wear at such a party in the Yankee lands?"
"That does not matter!"
"Really?"
"There would only be the two of us there!"
"Sir! Really!"
He jumped off at Doodle Junctyion. Then the train derailed after 800 yards. The crew jumped off with their lever type thingys and put the train back on.
The train rattled on and seemed quite slow. Great Aunt Celia made her way to the dining car and ordered tea and jam sandwiches. As she tucked in to the epicureal feast, a train dashed past her choo choo. She could see lots of men in trilby's with cards in the ribbon, they had notebooks and cameras out. Her eyes hurt as flashes from the cameras filled her coach. Then her train clunked and cllnked and derailed. The crew jumped out and put it back on.
"Waiter!" She called. "Waiter!"
"Yes Ma'am?" Bert the waiter asked. "What can I do for you?"
"I was told this was the fast train to Tennessee, but that train was going much quicker. I paid two dollars extra." She showed the waiter her ticket. "Why?!"
"Oh Ma'am, that was the fast train that just went past, the newspaper people go on that one now, they used to get this train." The waiter gave her the ticket back. "You my cuteness, have bought the ex-press ticket."
"Exactly! So why, why. why, why?!" She stamped her feet, loudly. "Why, why, why!"
"Oh, you are Norwegian, are you not?"
"Yes! Why do people keep saying that?"
After her tasty treat she had a nap. She woke to see the men outside again, putting the train back on. The ticket inspector happened past.
"Oh, excuse me!" Great Aunt Celia called. "Ticket thingy man!?"
"Yes Ma'am?" The ticket inspector said. "What can I do for you?"
"Just how many times has this train derailed?"
"Don't know Ma'am. It's hard to keep track."
"Oh." Great Aunt Celia whispered to herself.
"Ticket inspectors, you've got to hand it to them."
Anyway. After 27 days she was in the South and a cowboy type man got on and sat opposite her. As the train gave steam, she fluttered her eyelashes at him. A noticeable bump appeared in his jeans and soon he'd unbuttoned it and out it popped. The cowboy was sitting there, a-wanking!
"Oh my!" Great Aunt Celia said, trying not to look away. "What are you doing?"
The man calmly pulled a pick from his bag and rubbed his long thick thingy against it.
"Oh! Great Jumping Jehoshaphat! I asked you Sir, what are you doing?"
"Just that I like to climb axe Ma'am."
"That is quite a specimen!" She gushed. "I've never seen such a whopper before!"
"Yes, my unmentionable was in the Guiness Book of World Records."
"Really? Coz it is so long and thick and big and... oh my."
"No, but the librarian told me to take it out."
"Oh."
"But." The cowboy type person said. "It's not all good ya'll know."
"How's that then?"
"It's a bit like a Chinese puzzle."
"How can your thingy be compared to a Chinese puzzle?"
"The more you play with it, the harder it gets!"
Well, soon Great Aunt Celia saw the cowboy come to a sticky ending and she realised the train was pulling into her station. The married Engineer winked at her as she walked past the engine, he'd lost his esteem. She made her way to Nankipoo village to find the Pope's Aunt's house.
And her adventures continued!!!!
--------------------------------------------------------------------------------------------------------------------------

Take chances, make mistakes. That's how you grow.
Mary Tyler Moore (1936-2017).
This whole thing sounds like some weird, R-rated Beatles movie.

Angelic




Posts

: 410


Join date

: 2018-06-19



Angelic wrote:This whole thing sounds like some weird, R-rated Beatles movie.
Except, nobody has heard of the Beatles....
--------------------------------------------------------------------------------------------------------------------------

Take chances, make mistakes. That's how you grow.
Mary Tyler Moore (1936-2017).
Well, I was having a HUGE sort out today and I happened another yet another trunk of my Great Aunt Celia's journals, that makes 267 volumes, each with 1,942 pages and 267,339 photographs!!!!!
In 1902 Great Aunt Celia travelled to Cleethorpes and on the way met a friendly Cat called Jojo, she encountered a nasty lady called Gertrude who shouted obscenities at little Jojo. Anyway, she stopped at a farmhouse, where three men lived, Ted, Fred and Bert and fell asleep.
When she awoke after a storm type thing, she was standing on a pink path, the path stretched miles into the distance.
A real McNasty type Witch flew past and landed next to her.
"I am going to get you my pretty and your pussy too!"
"Sorry, I don't like other women."
"Hahahahahaha!" The Gertrude looking type Witch laughed and flew away.
Great Aunt Celia started to cry, "Jojo, I don't think we're in Cleethorpes anymore."
Suddenly a Scarecrow wearing a huge medal spoke to her.
"Hello!" The Scarecrow said. "Do you wanna fuck?"
"Not really." Great Aunt Celia replied. "I'm Celia and I'm terribly lost."
"Pull yourself together girl! I'm Scarecrow."
"No, I mean I'm lost, I don't know where I am!"
"Oh."
"What's that big thing hanging round ya neck then?"
"It's my MBE! The Queen of England gave me it!"
"Liar, liar pants afire! Why would the Queen of England give a Scarecrow a medal?"
"Coz I'm outstanding in my field!"
"Oh, fair enough."
"I voted for Mr. Frump!" The Scarecrow announced. "So I want to see the Great Wizard of Cleethorpes to see if I can get a brain! Hey Celia perhaps the Wizard can show you the way home!"
"Do ya think so?"
"Yes, we can give it a try. Let's go down the Pink Brick Road!"
"I'm hungry, can't we eat first?" She rubbed her tum tum.
"Not me, I'm stuffed!"
"Well I know that!" She screamed.
"I could unstuff me a little, if ya like?"
"No, that's just clutching at straws. Let's go!"
"Oh, too late I've just pulled it all out."
"This is the last straw!" She said. "How are you going to walk now?"
"Well, ya could stuff me."
"I never do that, ever!"
"No, with the straw."
"Oh. Ok."
So off they went down the Pink Brick Road and saw the Sapphire City in the distance, but first they had to go through the woods. They encountered a statue, a man made of metal. Luckily Great Aunt Celia had an oil can in her handbag and she oiled his joints.
"Thank you!" The tin man said. "I've been in some pickles, but that was the worst, it rained and I rustied up. If ya squirt a bit down there, I can fuck ya if ya like?"
"Erm, I've run outta oil. Well, nice to meet you anyway, I am Celia and this is Scarecrow. Tell me, what other pickles have you been in then?"
"Well I got run over by a steam roller, I was foiled."
"Oh. How did ya get back to yourself then."
"Oh, tin can. Where are you two going then?"
"To see the Wizard. A brain for the Republican Scarecrow and a map for me."
"I could do with a heart, it got squidged by the steam roller."
"Ok."
So they carried on when a big Lion jumped out of the bushes! He was dressed very well with a cravat and all. He was a Dandelion.
"Ruuuuuuh!"
"Your fly is undone." Great Aunt Celia noticed.
"Don't hit me, don't hit me!" The Lion cowered."
"Oh you pussy. We won't hit you. I'm Celia, this is Scarecrow and Tinman."
"Well, just saying, don't hit me! Anyway.... what ya lookin' down there for! I have'nt even offered to fuck ya yet!"
"Oh my."
"Well, I'm very hungry." The Lion continued. "And it's Chewsday!"
"No, it's Friday. Fish only, so pooh to you!"
"I can't catch my food. I need Courage!"
"Well if ya drink beer, of course ya won't catch anything, too drunk!"
"You're not from round here, are you?" Scarecrow said.
"No, I''m from Maine." He rubbed his hairy tum tum. "I haven't eaten for ages and my last meal gave me the trots!"
"What was it?" Tinman asked.
"Well, it was a clown from the circus. I thought it tasted a bit funny at the time. Oh, what I'd give, even for a chocolate chimp cookie!"
"Come with me." Great Aunt Celia said.
"Well I don't know if I can get my timing right, I might get too excited....."
"No, I mean come with me, we are gonna see the Wizard, he'll give you some beer."
"Eh?"
Anyhoo, they set off for the city and Great Aunt Celia woke up. She was still in Cleethorpes. "Oh my, what a nightmare." She told herself. "Still here! I suppose I best get a train outta here!"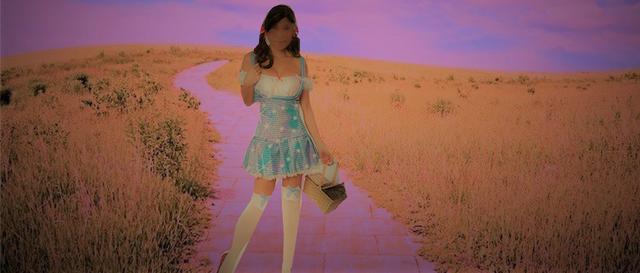 --------------------------------------------------------------------------------------------------------------------------

Take chances, make mistakes. That's how you grow.
Mary Tyler Moore (1936-2017).
Page 2 of 2 •
1, 2
Similar topics
---
Permissions in this forum:
You
cannot
reply to topics in this forum